by Susan Taylor Block
(Click on photos to magnify, double-click and scroll to see more.)

The "World's Largest Living Christmas Tree," shown here on a rare snowy day, was a project of James E. L. Wade, Commissioner of Public Works. He thought the enormous oak on Wilmington's north side, was appropriate particularly because Hilton Park, where it is rooted, was Wilmington's first playground for children. "Hugh MacRae's Tide Water Power Company furnished all labor, most of the wiring and 750 light globes for the tree," reported the Morning Star, Christmas Eve, 1929. "The moss in the tree, if it were carried away, would take three 2-ton trucks to do the work."
Prizes were awarded under the tree for outdoor decorations across town, a contest also instituted by James E. L. Wade. In 1929, judges included Mrs. Walter Sprunt, Mrs. J. B. Cranmer, Mrs. Henry Peschau and Mrs. R. C. Cantwell. In 1930, the giant Hilton Christmas tree was declared "the most beautiful of its kind in the state and nation" by the National Federation of Women's Clubs.
On January 1, 1933, 5000 people gathered at the tree to hear "a program presented by negro residents of the city." Participants from Williston High School Glee Club and St. Stephen's, St. Luke's and Central Baptist churches mesmerized the crowd; city fathers requested an encore performance the following evening.
In 1935, the city added fireworks shows near the tree and strung 2800 25-watt bulbs across town.
Motorists cruised the city, from Dry Pond to Hilton, during New Year's celebrations in the early 1930s. Celebrants dragged cowbells and tin cans tied to their rear axles and "let them bump deliciously along the streets," according to newspaper reports. "At midnight, there was the usual wild outburst. Bells clanged, horns tooted, sirens shrieked, firecrackers roared, pistols barked – so did the dogs."
After eighty years of Yuletide glowing, the World's Largest Living Christmas Tree was lit for the last time in 2009. Natural elements and concrete encroachments took their toll.  (472)

The first Hughes Brothers building was on "Unlucky Corner," the northeast corner of Second and Market streets. It was one of the first service stations in the state to offer off-street refueling. Until that time, gasoline pumps were located in the street.
Founded in 1921 by John Winder Hughes, Hughes Brothers also sold batteries, parts and tires. By 1930, Hughes Brothers had stations on Market Street at 2nd, 11th and 17th streets. They sold "diamond tires and tubes," with a price range of $8 to $28 .
About 1936, Hughes Brothers moved their headquarters from the northeastern corner of Second and Market streets to 1101 Market Street where a Hughes Brothers garage already existed. Owners made improvements to the property, but the canapy was still so low that some trucks could not fit under it.
"So how high do we have to buid it?" someone asked.
"To the electric wires," another answered.  (171)

In 1907, Coca-Cola ads promised a lot. "Fagged? Buy yourself five cents worth of the most delicious, invigorating, refreshing beverage that ever pleased your palate or put starch in a tired body." Wilmingtonian George Henry Hutaff boarded a train in 1903 for Atlanta, hoping to buy a franchise to sell the new product. Other businessmen on the same dusty train tarried to take a bath before they met with Coca-Cola officials. Because Mr. Hutaff skipped the bath and got there first, he was able to buy franchises up and down the coast of N. C. and Virginia. The others were allowed only one each. (790)

Here, a group of unidentified children pose beside the streetcar yard, near Ninth and Orange streets. For a brief time, the cars carried blacks from this location to their own beach: Shell Island, once known as Moore's Beach . "Not a single case of disorderly conduct on Shell Island cars was reported," during the beach's life as an elegant black resort. Developed by Thomas H. Wright and Charles B. Parmele, Shell Island thrived from 1923 until it burned to the ground, in 1925.  Jazz greats like Professor Walter Green, Johnson's Broadway Jazz, Lindsey Brown and John Cabbage Walker drew crowds from several states and reviews in the Charlotte Observer, Tuskegee News, Pittsburgh Journal and N. Y. Times.
"The island is entirely for the Negroes of the South and this section. Offers to rent or buy locations which have been made by white people have been steadily declined, regardless of price. There is not now a white person on the beach," stated the Morning Star, July 22, 1923.
T. H. Knight managed the dance pavilion, a busy place every Monday night. On Monday, August 13, 1923, more than one thousand visitors gathered for great music, good food and the warm ocean breeze. Guests that week included Robert R. Taylor of the Tuskegee Institute; Julia Amy Williams, principal of Raleigh's Washington School; Dr. Fred Quick of Rockingham; Dr. J. H. Robinson of Hamlet; and L. C. Lynn of New York City.
Shell Island's mysterious fire is especially tragic considering the development project had even greater potential than a minority's vacation paradise. In a time when many Wilmingtonians still remembered the Riot of 1898, the Shell Island project dovetailed with a movement to create an interracial committee to promote better relations between whites and African-Americans.
On January 4,1924, local journalists had announced plans "to make Shell Beach a Negro Atlantic City." They met at Victoria Temple, under the "auspices of the Shell Island Booster Club of the Shell Island Beach Development Co., an all-Negro Corp. of this city with a capitalization of $50,000. Prominent men of both races are billed to speak, among them Major J. H. Cowan.
"Music will be by the Cristadora Choral Club of the Clef Clef. Great interest has been taken by the people of this country, north and south, in the opening last season of an exclusive beach resort for colored people of this section. It is generally felt that the progressive welfare policy, coupled with the activities of the inter-racial committee, which resulted in civic and educational improvements, is quite largely responsible for the cessation of Negro migration from this city." Losing Shell Island Resort set things back significantly.  (199)

As a memorial to his brother Isaac, Samuel Bear donated a fully equipped school to New Hanover County in 1912, expressing the wish, "That here, the children of Wilmington might amid beautiful and comfortable surroundings find happiness in the pursuit of learning." The original building, consisting of six oversized classrooms and an assembly room, housed comfortably 200 students and a faculty of seven. Two additions later, in 1939, 700 students and a faculty of twenty filled the red brick school house.
The University of North Carolina at Wilmington, known at the time as Wilmington College, began in this building in 1947. When the campus moved to South College Road, university officials named one of the new buildings Bear Hall, in honor of their first home.  (167)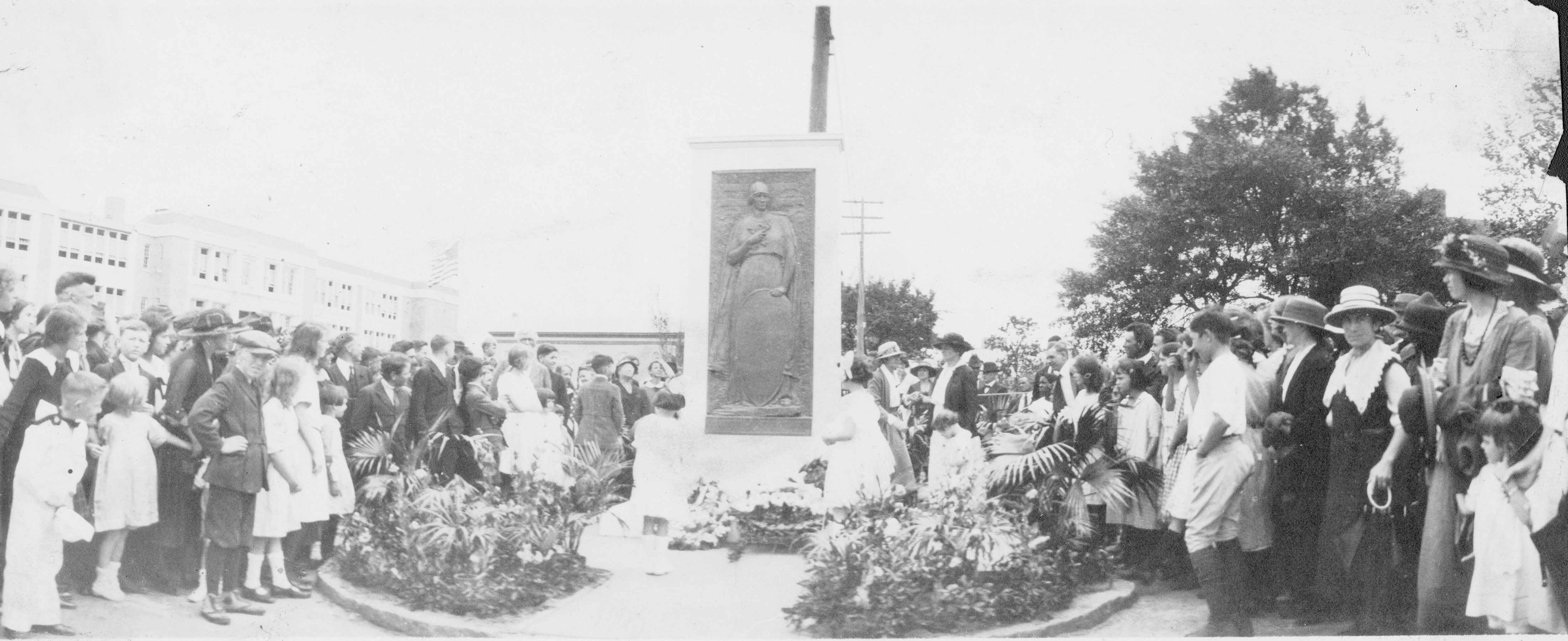 Louis T. Moore initiated the campaign to fund and create a monument to Wilmingtonians who died in World War I. James Sprunt, chief contributor, wrote the inscription on the monument: "In prison, in hospital, on the battlefield, on hostile seas, in uncharted realms of air, they found support and consolation in the belief that they would not be forgotten."
The World War Monument on Market Street, at 13th, was dedicated on Decoration Day, May 30, 1922. Mayor James E. Cowan and Senator Pat Harrison of Mississippi took part in the program. Officials recognized Edward T. Taylor for his role in canvassing the community. Louis T. Moore wrote, "The monument was unveiled by four little children whose fathers gave their lives in the great war."
Created of bronze on native granite, the memorial soon was covered in climbing roses looped upon a trellis. Today, it stands on the New Hanover High School campus.  (882)

When Pembroke Jones died in 1919, he left the city $50,000 for a park and playground.  Work started in 1921 on the south side of the 1400 block of Market Street. The park, complete with swings, seesaws and sliding boards, became a regular gathering spot for the older children of the neighborhood.  In addition, there was usually a group of babies in strollers, accompanied by African-American "nurses." Sidewalks were constructed for strolling and biking. The park was a favorite place for baseball, football, tennis, and marbles.
Pembroke Jones Park was also the site of varied ceremonies and celebrations. On November 24, 1925, the Daughters of the American Revolution dedicated a tree planted there to commemorate Washington's visit to Wilmington, in 1791. In 1924, Fred St. Onge, the "greatest trick bicyclist in the world,"  conducted lessons on "riding a bicycle in a crowded thoroughfare."  In 1933, Rosalie Oliver was crowned May Queen at Pembroke Jones Park.
The structures across Market Street have survived: the 1921 New Hanover High School building and Trinity Methodist Church were designed by Leslie N. Boney. The Hargrove Bellamy House has been altered since this photo was taken. The 1887 Berry-Hunt House on the right has been the home of Dr. and Mrs. James Rush Beeler since 1971.  (628)

A hundred years ago, horse troughs were a common sight in Wilmington, as were horse bonnets during summer months. This drinking trough had been in town since about 1850 when the Clarendon Water Works Company, owned by Edward Kidder, installed the public water system. Louis T. Moore and James E. L. Wade fought to preserve troughs as well as a hitching post near Fourth and Market streets.
On August 28, 1950, Louis T. Moore wrote James E. L. Wade that he hoped other relics would not be "thrown aside on the yards of the Street Department, neglected and forgotten. These ancient troughs slaked the thirst of countless horses and mules engaged in the busy traffic of a past day and generation. They are surrounded with sentiment of a former peaceful era in our community life, as compared with the rush and hurry of modern times."  (841)

Henry Bonitz adapted a design from a houseplan book to create the Haughton James House (on left), at 1507 Market Street. The James family occupied the house from 1915 until 1992. William Hutaff built the house (center) and a back yard tennis court next door, about. 1917. The dwelling on the right was built by Robert Northrop. This photo was taken before 1926, when construction began on the Ida Strauss House at 1509 Market Street.  (163)

"There is a tropical luxuriance of flowers and trees in Wilmington, which is almost astonishing," wrote travel writer Edward King, in 1875. The latitude helps, but a greenhouse like the Moore family had can work wonders. Here, Will Moore shows off a bunch of bananas, about 1930.
Will's sister, Lucy B. Moore, owned the house (on right) that used to sit on the southeast corner of Fifteenth and Market streets. She grew flowers and plants in the greenhouse and, in the late 1920s, sold them in Speer's Drug Store and Home Savings Bank. Will and Lucy were cousins of Louis T. Moore. Lucy Moore and another local florist carried on a good-natured rivalry for years. "If Will Rehder is North Carolina's oldest florist, could Lucy B. Moore?" quipped friends.
Louis T. Moore took this photo in 1926 or 1927, because that was the construction period for the Ida Strauss House, at 1509 Market Street. (Double click and scroll right.) The design, attributed to architect Kenneth M. Murchison, is distinctive. So is the yellow brick facade.  (399)

The Block Shirt Factory (1923-1992) was one of many businesses Louis T. Moore recruited during his days with the Wilmington Chamber of Commerce. "…Louis T. Moore got in touch with the Block manufacturing company and secured this now Wilmington industry after once getting it on his string," stated the Star News.
"I am glad Mr. Moore got us to come to Wilmington," replied founder William Block, "for I find it is a beautiful city and has the ideal advantages that we considered a sufficient inducement for us to make our decision." By 1985, what began as a business with 25 sewing machines had grown to gross $100 million a year, and their products, carried in 10,000 retail stores, included shirts made for Saks, Jordache, Macy's, Gimbels, and other companies.
William Block (1878-1954) was a native of Riga whose mother, Rachel Block, operated a shirt factory there. A New York newspaper stated that Mr. Block was practically " born in a shirt box." His company was the second firm known to develop a method to prevent color fades. "Block's Cantfade Shirts are supreme," read ads carried nationally.
In 1933, William Block, whose Riga relatives would become victims of the Holocaust, headed up local efforts for the American Palestine Campaign, an organization that aided "stricken Jews to migrate to Palestine." Though no one can know how many Jews escaped Hitler's clutches through the Wilmington campaign, it is certain that many locals gave liberally to the cause.  One notable donation came from Jane Dalziel Wood.
The building pictured burned in the fall of 1927. The Blocks leased it from the E. I. Bear family who had used it as a winery until prohibition. "We were attending a service at the Temple of Israel and someone came running in, yelling 'Nathan Block, the factory's on fire!' I remember running down Hanover street in high heels,'" said Sadie Block, William's daughter-in-law, in 1997. The Bear family repaired the building as soon as possible, but precious days of production were lost. Immediately, the Block family began searching for a large structure to buy as insurance against a similar occurrence. (306)

William Block's search for a backup building ended once again with a property owned by the Bears. It had been the location of another Bear Winery that operated on the south side of town, on the corner of South Front and Marsteller streets. Prior to prohibition, the Bears purchased berries from local farmers to make Sol Bear Wine and marked the bottles with a logo that would rival Smokey the Bear. After leasing the building briefly to Garrett and Company, the Bear family then sold it to the Block Shirt Company for $60,000, in 1930.
Shirtmaking continued on North Front Street and Block Shirts, content with a back-up building, rented the old Bear Winery to Farrar Transfer and Storage for decades. "All chance of moisture or mold is eliminated," read the optimistic Farrar ad in 1933, "and we have a private spur track into our plant."
By 1935, the Block Shirt Company was making 24,000 shirts each week. About that time, the company purchased another building and moved their factory from 702 North Front Street to the old Wilmington Printing Company office at 210 Greenfield Street. After expanding the building, the factory entrance was moved to face South Third Street, across from Greenfield Lake. The Block family, descendants of Charles and Nathan Block, and Esther Block Guld, sold the old Sol Bear Winery building in 1991. (144)

Members of the Williston High School Class of 1931 pose on the steps of a new building: the third Williston High School structure. Designed by the architectural firm of Lynch and Foard, the edifice served Wilmington's black community for five short years before it burned, May 6, 1936. Williston, named for philanthropist Samuel Williston of Easthampton, Massachusetts, ranked high among African-American schools of the time. The faculty emphasized the fine arts, and school calendars included student violin and piano concerts, plus a full day dedicated to reciting Robert Burns's poetry.  (637)

Bellamy Park, located between Wooster and Dawson, near 17th Street, was the site of many amusements, including circuses and Wilmington Pirates baseball games. Louis T. Moore conceived the idea of the 1930 "Bicentennial Pageant." Almost 1,200 Wilmingtonians took part in the nocturnal pageant, staged under 25,000 watt bulbs in the park.
Three thousand spectators viewed scenes from Wilmington's history, created by R. H. Harrington: Wilmington's first train, a Colonial mansion and the "poop deck of a Civil War blockade runner." Edith Russell researched costumes that included everything from "gee-stringed Indians" to "bewigged and powdered grande dames." An actor who played the part of Governor Gabriel Johnston arrived riding in a sedan chair – and the city's founding fathers bellowed out a rousing version of , "Land of Hope and Glory."
The girls pictured here portrayed immigrants from Holland that settled at Castle Hayne after the turn of the 20th century, when Hugh MacRae created a group of farm colonies near Wilmington. The play lasted five hours, but, judging by a press release, a subsequent one lasted even longer: "The spectacle proper will start with the creation."  (611)
Spofford Mills was located in the 2200 block of Wrightsville Avenue. Today, the office building on the left is all that remains. The mill, built in 1899, was named Delgado Mills after Dolores Delgado Stevens Holt, the wife of owner Edwin Cameron Holt. Dolores, an Episcopal Bishop's daughter, was her parents' eleventh child. Having run out of names, her father remembered a Spanish sailor he met in Charleston and named his youngest child for the sailor's mother, Dolores Delgado. Random as it seems, even after the corporate name changed, the neighborhood retained the name "Delgado."
Edwin Holt was part of a large Alamance County family, all mill owners.  According to Mrs. Harry C. James, Edwin and Dolores's granddaughter, one member of the family, Sam Holt, "would not stay home and run mills as his brothers did. He kept running off to sea. So his father bought him a ship." Sam came into port often to visit his brother at 1711 Market Street, now the Wise Alumni House, and to bring unusual gifts. One time he brought  Jocko, a monkey trained by sailors to bang a tin cup when he wanted a swig of rum.
Another time, Sam brought a parrot who quickly learned to mimic Edwin Holt's dog whistle. From the safety of his cage on the front porch, the parrot would whistle and the dogs would come tearing around the corner of the house, "whereupon the parrot would die laughing."  (834)

Here, two residents of Delgado work in their home victory garden under the supervision of Carl Rehder, supervisor of city gardens for the federal Government Rehabilitation Program. During the height of the Great Depression, Rehder worked closely with J. P. Herring, county agricultural agent, and Morning Star publisher Rye Page to promote home gardens for income and sustenance.
The Morning Star offered cash gifts, from $2 to $5, for the best gardens. Schools like Isaac Bear participated in the contests, hoping to win both cash and a silver trophy. In 1933, school contestants raised more than $15,000 worth of vegetables for use by their families. One boy sold $30 worth of Irish potatoes – big money back then. Gov. O. Max Gardner praised Carl Rehder for his efforts.  (837)

In April 1934, J. Holmes Davis, president of Spofford Mills, announced plans to build a swimming pool at Delgado for company employees. The pool, located near the intersection of Wrightsville Avenue and Castle Street, was to provide recreation and exercise for 1000 employees of the mill and their families.
Designed by the architectural firm of Lynch and Foard, and built by W. A. Simon, the pool was "fed from a natural flow at the base of the hillside," according to local newspaper reports. Nature flowed at the Delgado fountain to the tune of 3600 gallons an hour; the pool provided refreshment and recreation to mill families for three decades.
Additional gifts came from outside the mill family. James Sprunt started the Delgado Milk Fund to benefit children in the mill neighborhood and, in 1900, provided them a with a fully equipped school. Dr. Sprunt spoke at the Delgado School commencement and was moved to tears when the children presented him with a basket of gifts. "The children and adults of the mill love him tenderly," wrote historian Fred A. Olds, in 1923.  (827)

Spofford Mills president J. Holmes Davis (middle table, first man on right) and his employees enjoy an oyster roast, served by the Cazeaux sisters. The two women hired Ed Robinson, a black man who lived on Masonboro Sound, to roast the succulent treats. The establishment became an instant success and was featured in the Saturday Evening Post about 1924.
"The Misses Cazeaux are now serving oyster roasts at Hickory's – their charming old home on Masonboro Sound from 1-9 each day. Hickory's is ideally situated in a grove of stately hickory nut trees within sight of the water," stated the 1923 ad. "The Misses Cazeaux serve piping hot Johnny cakes and coffee with their oysters."
With diners blissfully unaware of mercury content, contamination or pfiesteria, oyster roasts were extremely popular in southeastern North Carolina. From time to time, devotees urged price regulations to protect fishermen who supplied their winter treats. "When the Oyster Trust is established, the oyster devotees will have to shell out as well as the oyster," punned the Morning Star, October 17, 1889.  (221)

Wallace Park, dedicated December 22, 1926, was a gift to the city from Brookwood developer Oliver T. Wallace who was responsible for other improvements: Harbor Island and several downtown structures, including the Wallace Building on the southwest corner of Third and Princess streets.
Delmas Haskett (third boy from right) was a Wilmington historian who compiled many volumes of genealogical material.  (213)

This photograph depicts the 1922 building designed by architect Leslie N. Boney, but Cape Fear Country Club had been around since 1896, when it was known as the Cape Fear Golf Club of Wilmington. According to a 1928 account by Mr. Moore, when the first course was laid out at Hilton Park, developers ran out of space: one hole had to double as part of the baseball field. The clubhouse wasn't private either, since it was actually the terminal building of the Wilmington Street Railway. In October 1899, a new clubhouse opened near the Fourth Street Bridge, which afforded "a picturesque view, with the moss covered trees fringing over the links and the hazards that hedge it about."  (793)

In 1902, members purchased property on the north side of the "Wrightsville State Highway," or Oleander Drive. The following year, the name was changed to Cape Fear Country Club and four years later, a new clubhouse was constructed. "Property lying to the southeast of the old course was acquired and under the skillful direction of Burke H. Bridgers was soon cleared and the additional holes laid off, " wrote Mr. Moore. "But before the new holes could be completed the U. S. entered the World War and all work was held up until after the signing of the Armistice."
The first Oleander clubhouse, located on the present site of the west end of Mimosa Place, burned in 1919 and the hole once occupied by the basement locker rooms was converted into a trap in 1928. This photo shows the elevated tee on the "new" course. According to Henry B. Rehder, most of the original plantings were designed by Will Rehder and George Kidder, with some advice from Jessie Kenan Wise.
On September 7, 1933, golfers spotted a seven-foot alligator on the course. After being shot four times and "run over by George Benson's automobile," the alligator showed no sign of duress. John W. Hewlett, owner of a service station at Lingo City (2038 Oleander Drive), offered to keep the alligator and tie it up as a watchdog.  (624)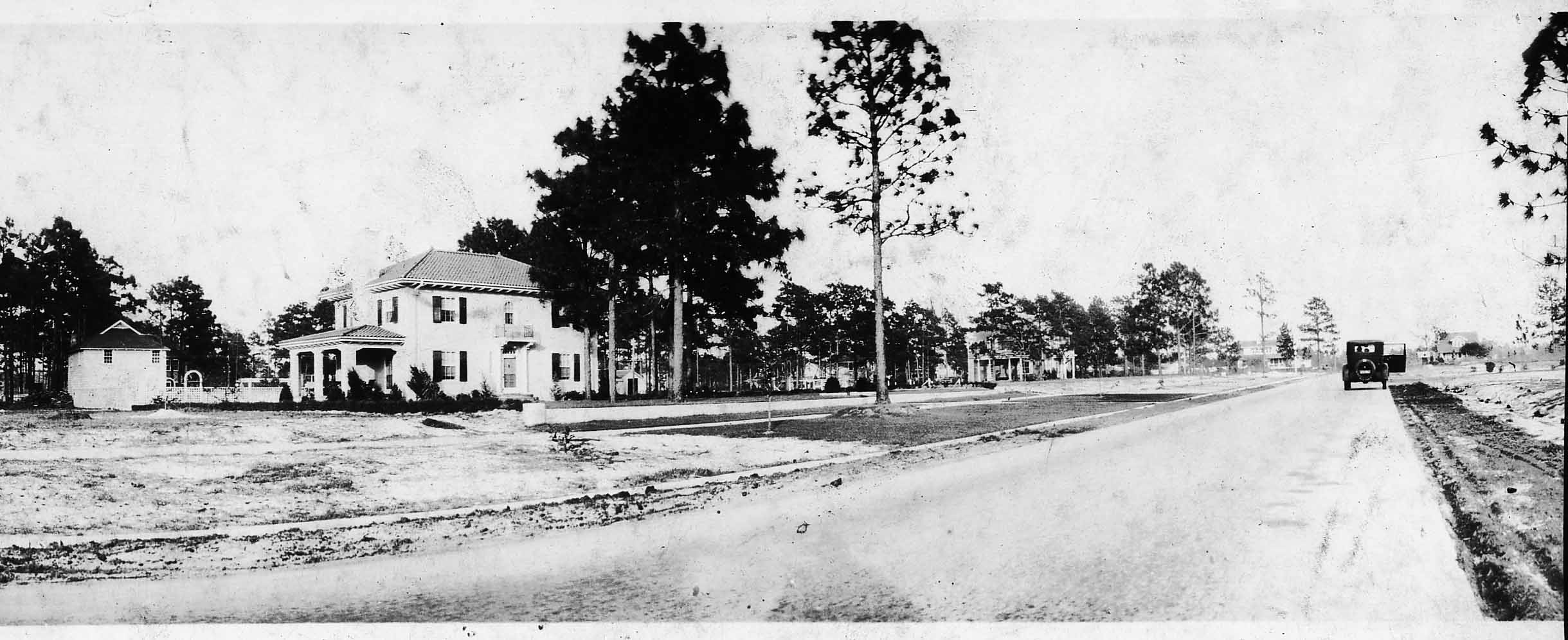 In 1925, Charles B. Parmele built his 1925 home at 2315 Oleander Drive in an "adaptation of modern Spanish architecture." Contractor P. M. Greer utilized a special type stucco on the dwelling, marketed locally by Becker Coal and Builders Supply Company. Designed by James B. Lynch, the Parmele House fell in with an architectural trend exhibited in the Intracoastal Waterway beachcar station, the Wallace Building at Third and Princess streets, St. Andrew's on-the-Sound and Villa Margarita, on Harbor Island. Lynch had a hand in most of the buildings. He was related to Harbor Island developer Oliver T. Wallace through the Borden family, a genealogical fact that did not impede his career.  (1000)
Though content to stay in the background, Hugh MacRae (1865-1951), developer of Linville, N. C., helped Wilmington establish a municipal golf course in 1925. Mr. MacRae not only donated the 125-acre tract, but procured his friend, famed golf course designer Donald Ross, to draw the plans. MacRae's son, Nelson, and City Engineer McKean Maffitt accompanied Ross as he walked the land, planning the course. Black women, working under the auspices of the W. P. A., tufted the greens.
"Wilmington has just completed a new 18-hole course, laid out by that eminent authority, Donald Ross. Golf may be played practically every day during the year. Even rain does not interfere for but a few hours, the soil quickly absorbing it and leaving the courses in perfect condition," read Mr. Moore's promotion in a Chamber of Commerce folder.  (839)
Legend has it that privateer William Kidd (1645-1701) buried treasure on Money Island in Greenville Sound. Accused of piracy after he successfully raided two French ships, Kidd supposedly hid a portion of the bounty on Money Island. and left his trusted lieutenant, Captain Redfield, to guard the cache. Redfield did so handily by building a house over the treasure. Harassed by pirate Max Brisbeu to divulge Kidd's hiding place, Redfield and his wife were routed to Charleston. Brisbeu was arrested, but the Redfields simply disappeared, perhaps changing their identity and possessing a sack of gold. Tales of Captain Kidd inspired Robert Louis Stevenson's Treasure Island .
When the Worth family owned Shandy Hall in the 1920s, Dr. George Worth use to delight children in the 1920s, by "discovering" a treasure map that would lead them straight to buried delights: costume jewelry and trinkets that the medical missionary had hidden in the sand. Perhaps these "hunts" inspired architect Kenneth M. Murchison to publish a musical composition in 1920 entitled "Captain Kidd."
Greenville Loop Road was one of the trolleys' routes to Wrightville Beach. Mr. Moore did not grieve much when the streetcar ceased and the Shell Road was paved. Instead, he wrote a new promotion: "The Mountains to the Sea Highway, a ribbon of concrete extending without a break entirely across the southern section of North Carolina, has its terminus at Wrightsville Beach, near Wilmington, one of the most delightful resorts along the Southern Atlantic coast."  (707)

Echo Dairy Farms was the resounding name A. O. McEachern gave the resoundant family business, south of Monkey Junction on the Carolina Beach Road.  Mr. McEachern built the barn in 1910 with pines that grew on the farm. The trees were floated down Barnard's Creek and up the Cape Fear River to the Hilton Lumber Company where they were cut into boards for the 7000-square-foot structure.
According to Mr. McEachern's grandson, Jack McCarley, the white building on the right was a processing plant where milk was pasteurized, bottled and kept in cold storage. At 5 a.m. trucks lined up at the large window to collect bottled fresh milk for home delivery.
Here, a workman, perhaps Porter Dinkins, hangs on to a Holstein bull. Mr. Dinkins and his wife, Viola, lived on the property as did several other families of employees.  A. O. McEachern and an unidentified man keep their distance from the animal in this photo, but usually Mr. McEachern was "up close and personal" with his livestock. At one time, he owned 200 Holstein cows that produced 300,000 gallons of milk per year. He named and tagged each animal in his purebred herd and kept records that included drawings of the pattern of their spots. He also kept intricate records of their progenitors, sometimes tracing a cow's European ancestry. In the 1930s, it was said, the cows at Echo Farms had more complete genealogical charts than most Wilmingtonians.  (420)

This is the McEachern House at Echo Farms. Mr. McEachern documented milk production at Echo Farms carefully. The product was weighed after each milking to monitor the conditions that produced the most milk. McEachern made every effort to curtail stress in the lives of his cattle, knowing that storms, backfire from an old car or simply the rearrangement of a cow's stall affected production. Contented cows do indeed produce the best milk.
Hundreds of New Hanover County schoolchildren toured Echo Farms in the 1950s, where they received chocolate milk and a plastic Holstein cow. One volunteer from each group was chosen to milk the most patient cow in the herd. As milk processing became more automated, the Echo Farms livestock slowly was relocated. In 1972, when Echo Farms became a subdivision, developers converted the barn into a clubhouse. The building was razed in 1999.  (402)

"Seeds from T. W. Wood and Sons always make large buttery heads," read the newspaper caption for this photo. Here, George Trask (on left) poses with a foreman at Blythe Savannah,  the Trask lettuce farm now known as the Pine Valley subdivision. The two men stand on the present-day site of Pine Valley Country Club. George Trask, a well-known local planter and master farmer, was the first to ship lettuce to New York. He sent it in large flour barrels, placing the lettuce heads on ice and cutting holes in the casks for drainage.
George Trask's agricultural interests were as broad as his real estate holdings. In 1930, he won $25 from the Atlantic Coast Line in a five-acre corn growing contest. In 1935, while serving on the New Hanover County Commission, he assisted Dr. Houston Moore in a year-long beautification effort at Greenfield Lake. Mr. Trask also excelled as a bulb farmer and sponsored immigrants to assist him. One family, the Oosterwyks, eventually created a successful family bulb business.  (394)