by Susan Taylor Block
(Click on photos to magnify. Double-click and scroll to see more.)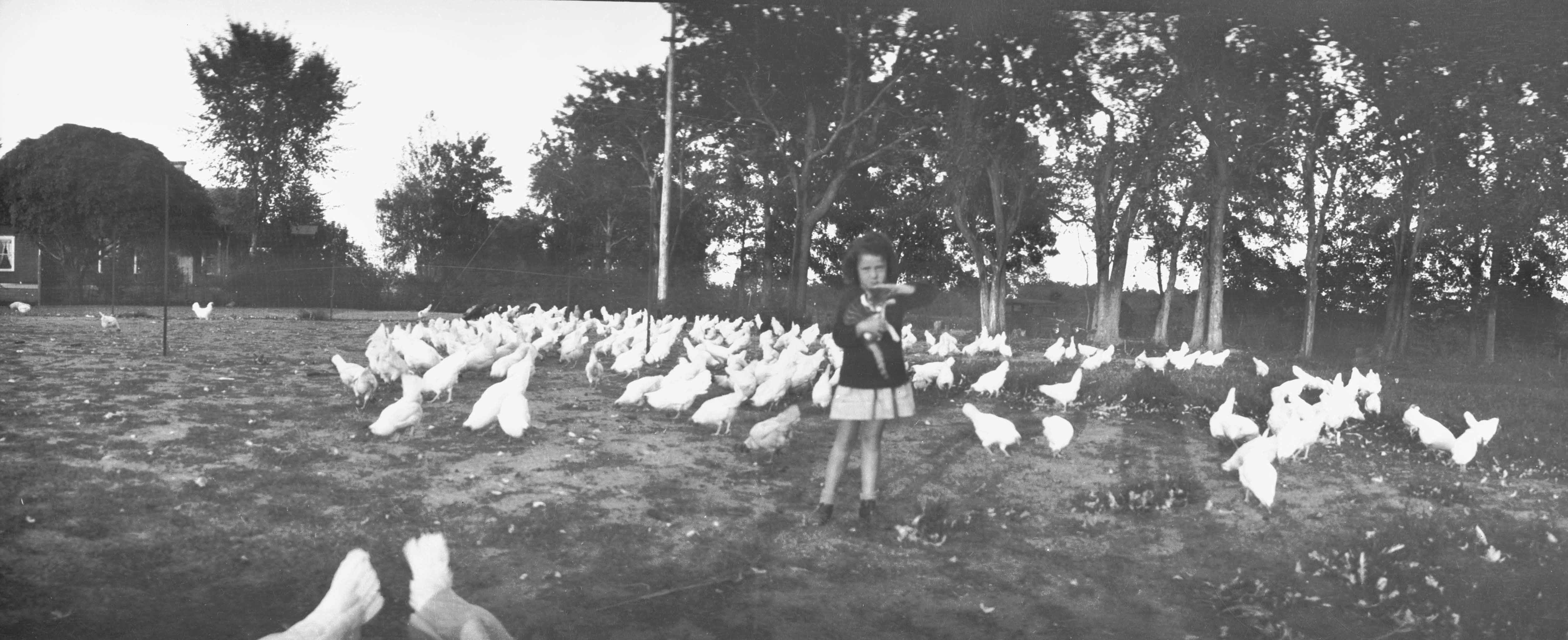 This unidentified girl stands in the midst of a chicken farm, but not necessarily in the country. Many city dwellers had chicken coops, and roosters screeched their peculiar form of reveille throughout town. During the Depression, a chicken club thrived: George H. and W. J. Hutaff, sponsors of the Hutaff Poultry Club, gave 15 baby chicks to each new member.
Front Street resident Pembroke Jones was familiar with fine feathers. At the age of 15, he "exhibited a black mare named Alice, also one pair of chickens at the Cape Fear Agricultural Association," stated the Morning Star, December 12, 1873. Both the mare and Sadie and Pembroke Jones's first child, Alice Dickinson, were named after Mrs. Platt Dickinson, the aunt who raised Pembroke Jones after his mother's death.
Henhouses yielded interesting specimens. A local farmer notified the Morning Star that he killed a large snake in his henhouse, then he delivered the tail, complete with 20 rattles, to the newspaper office as verification. Another farmer dropped off a "queer chicken egg."  (408)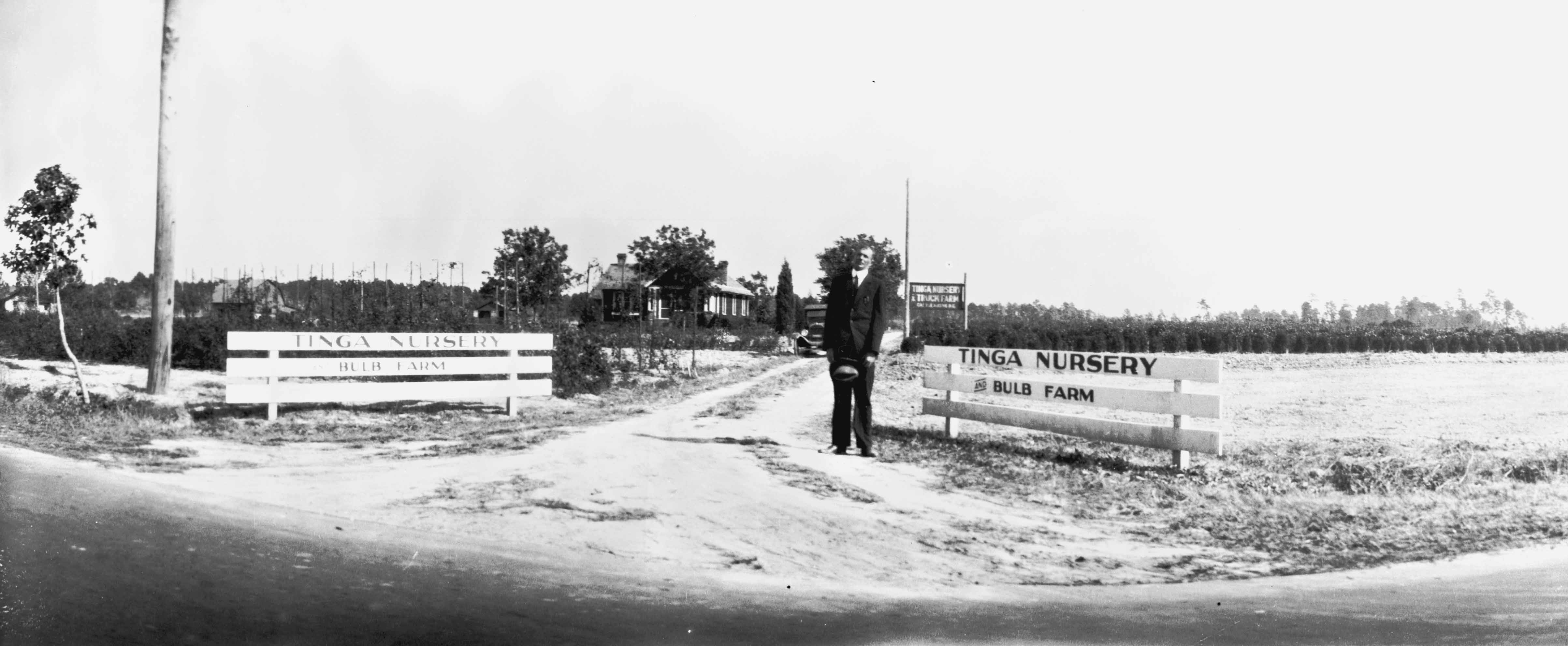 Eelco Tinga (1882-1973), a native of The Netherlands, came to America to  farm in Castle Haynes, as it was known at the time. Hugh MacRae of Wilmington developed Castle Haynes and several other farm colonies through his company, Carolina Trucking and Development. Tinga Nursery was one of several bulb farms at Castle Haynes that caused the colony to gain national respect. The Atlantic Coast Line transported millions of bulbs from the rustic depot to northern markets every year.
During the 1920s, the South Carolina Land Settlement Commission traveled coast to coast studying farming colonies before naming Castle Hayne the best in the nation. In 1929, bulb farmer Adrian Ludeke became the first naturalized citizen to be appointed a member of the N. C. Commission of Agriculture. Today, Tinga family members still operate a successful farm in Castle Hayne.  (421)

Here, another Castle Hayne farmer, and his employee, show off Castle Hayne's proudest product. Hugh MacRae visited the colonies weekly. Louis T. Moore called him a "business genius and the foremost developer of Eastern North Carolina." In addition to owning Lumina, the local power company, the streetcar line, Oceanic Hotel and Harbor Island Pavilion, he also had large swatches of land, including Oleander, Fort Fisher, Grandfather Mountain and 40,000 acres of farmland in New Hanover and Pender counties. Farming was his passion. He had more luxurious homes but his Pender County farm, Invershiel, was his favorite abode.
About 1900, MacRae conceived the idea of farming colonies managed by accomplished European agrarians. He recruited a thousand foreign families and transported them to southeastern North Carolina. Italians settled St. Helena; Hungarians and Hollanders, Castle Hayne; Poles moved to Marathon; Germans lived at New Berlin, a name that was changed after World War I to Delco; Hollanders at Van Eeden; and Hollanders and Poles at Artesia. But, as the News and Observer stated June 17, 1962, "Castle Hayne twinkled as the bright star of the colony galaxy."
MacRae's agricultural mantra was, "The South will come into its own when its fields are green in winter." He searched the world for grasses that would endure frost and snow. In 1923 alone, Hugh MacRae spent weeks touring farming operations in California, Utah and Wisconsin. He returned home briefly, then. on October 3,  set sail for Europe where he studied farming practices in France, Belgium, Holland, Denmark and England. As a result of his research, seven new grasses became staples on North Carolina farms, summer and winter. Mr. MacRae, who received more recognition outside Wilmington than in his home town, was honored by the Southern Economic Conference, Vassar University and the University of North Carolina, where he received an honorary doctorate.  (416)

During the 1920s, at least 5,000 people attended the annual September picnic in Willard, NC. The site of the 411-acre Coastal Plains Experimental Station, the small Pender County town was a farmers' laboratory where federal and state officials tried to improve agricultural interests as varied as pecans, corn fertilizer, soybeans, scuppernong and muscadine grapes, and Jersey cow milk. Superintendent Dr. Charles Dearing and C. A. Magoon monitored the experiments and publicized the results.
The town of Willard, settled in 1890 as Leesburg, was renamed for local lumber dealers.The Morning Star directed visitors to the picnic: "The Coastal Plains station is almost midway between Wilmington and Goldsboro, with some difference in favor of Wilmington." In 1923, someone from a neighboring town exhibited a 25 pound cabbage, a 6-pound turnip, a bean that measured 2 1/2 feet long and a beet shaped like a kangaroo – but what every farmer really wanted was a cure for the boll weevil.  (404)

Triplets were even more rare in 1916, when (left to right) Abraham, Isaac and Jacob Mills were born, in Willard, N. C. Triplets popped up again in the Mills family when Isaac's grandson fathered another set. This photo was taken at a street fair in Wallace, about 1926.
In September, the town of Wallace hosted several events. Picnics took place at the "pecan grove. Following the picnic Thursday night, a dance will be held at the Cooperative Warehouse in Wallace, with music by the famous Boll Weevil Orchestra," stated local officials in 1923, the same year Wallace received electricity.  (409)

In 1933, the federal government purchased 4500 acres of Pender County land and created Penderlea. Hugh MacRae and President Franklin Roosevelt worked together on an agreement that provided Subsistence Homestead Act funds for a planned farming community. The instant town, designed by John Nolen, filled quickly with people, farm equipment and livestock. However, it was Mr. MacRae's first experience with beaurocratic miasma. Busy with many jobs, he resigned from his Penderlea duties on February 15, 1935, claiming "too much red tape."
Eleanor Roosevelt visited Penderlea to observe the farms and enjoy a community picnic on June 11, 1937. Florence and Louis Moore enjoyed meeting the first lady. "Mother said she was one of the most charming people that she had ever met," said Peggy Perdew.  (406)

Moore's Creek Battleground Bridge was the site of a Revolutionary War battle on February 27, 1776. Patriots defeated loyalists and their victory has been celebrated ever since. In the early 1920s, Moore's Creek Battleground was the site of Independence Day celebrations, Confederate reunions and meetings of the vast Moore clan. The Moore's Creek Fair, held in mid-October, was a favorite of children. It featured mule races, 3-legged races, a 100 yard dash, singing and moving pictures.  (775)

This is the Pender County home of General Thomas Brown, a hero in the Revolutionary War. After nightfall on August 29, 1781, General Brown led 60 Whigs against 300 Tories at Elizabethtown. While their enemies slept, the Whigs swam across the Cape Fear River with their clothes and ammunition tied on top of their heads. Once on shore, they dressed quickly and surprised their drowsy opponents. Two Tory commanders were killed and many of their men trapped themselves when they leapt into a deep ravine, still known as Tory Hole.  (856)

This group of Wilmingtonians traveled to Washington, N. C. in a "Goodwill Motorcade" to promote tourism via the Intracoastal Waterway. The federal government erected the Beaux Arts-style building in the background in 1913. It functioned as a U. S. Courthouse and jail upstairs and a post office downstairs. Today, municipal offices fill the building.  (776)

When tolls were removed from the Cape Fear Memorial Bridge on February 5, 1935, a Goodwill Motorcade traveled to nearby towns to spread the word. In this photo, Mayor Smith of Fairmont  presents the large key to Wilmington, and Wilmington motorcade chairman Anson Alligood gives the smaller key to Fairmont, "the Robeson County tobacco capital."  (623)

On March 8, 1924, citizens from all over North Carolina gathered at Bath, North Carolina, when officials dedicated a plaque commemorating the town's founding, in 1705. Louis T. Moore cared about Bath because of its distinction as the oldest city in the state. But he also kept steady contact with the tiny municipality because of his campaign for better roads to Wilmington: Several state highway officials had close ties to Bath.
The Braxton-Burbage House stands on the left, Bath High School, built in 1925, is in the center background and the 1751 Palmer-Marsh House is on the right. The Palmer-Marsh House is now part of the Bath State Historic Site, but about 1920 it was a guest house. Its most famous visitor was Edna Ferber, who was studying the boats that went up and down the coast. The results of her research emerged in her bestselling novel, Showboat, and a musical by the same name. The factual showboat, the James Adams Floating Theater, visited Wilmington in 1932, shortly after the Intracoastal Waterway opened.
In 1933, twelve skeletons were found buried in a single grave not far from a site reported to have been Blackbeard's fortress near Norfolk. The discovery renewed discussions in Wilmington about Blackbeard's reputed escapades at Bath, in 1718. Rumored to be involved in business deals with Governor Eden, he purchased property in Bath and married a local teenager. After he was captured and beheaded, Captain Robert Maynard returned to Bath with the outlaw's head mounted on the bow of his ship.
During a nineteenth-century thunderstorm, at least 12 citizens of Bath noted the appearance of  a ball of fire about the size of a man's head. For the duration of the storm, it sailed back and forth in the air over Bath Creek, making a direct line from Plum Point, "where Teach did live" to Archbell Point. Superstitious residents thought it was Blackbeard's ghostly head but the luminous apparition might have had more to do with what lay a few miles away, at Aurora, where Texas Gulf now operates one of the largest phosphate mines in the world. (744)

Captain Otway Burns (1775-1850), a N. C. boatbuilder, was a privateer in the War of 1812. He captured at least nine vessels and confiscated a half million dollars in cargo on one trip alone. In Beaufort, N. C., after the war, he built the Prometheus, a Cape Fear River steamboat that arrived at Wilmington in 1817. When the Prometheus came within sight of the Dram Tree, waiting mariners blew boat whistles prompting a chain reaction that ended in downtown Wilmington with church bells pealing. Otway Burns dabbled in state politics before spending his later years as keeper of the Portsmouth Lighthouse. After his death in 1850, his body was transported by boat to the Old Burying Ground at Beaufort. The cannon that marks his grave was removed  from his privateering ship, the Snap Dragon. (625)
Copyright 2010 – Susan Taylor Block (text) and New Hanover County Public Library (photos)