by Susan Taylor Block
(Click to magnify images. Double click and scroll to see more.)

The subdivision known today as Landfall was a 2200-acre hunting preserve when this photo was taken. Owned by Wilmington native Pembroke Jones (1858-1919), Pembroke Park was a choice retreat for Guilded Age celebrities, and provided a secret hideaway for the Jones's reticent friend, Henry Walters, and his famous friends.
This photograph provides a glimpse of the area used for oyster roasts, events that were scheduled for daytime hours there. Jones's opulent "Bungalow," designed by friend J. Stewart Barney, sat on a bluff nearby. overlooking Wrightsville Sound. Barney, a writer, painter, sculptor and the architect who oversaw the restoration of Bruton Parish Church in Williamsburg (1907), collaborated on designs for many other famous buildings.
The lodge featured a primitive air conditioning system, recessed lighting, a secret door that led through black walnut paneling to Pembroke Jones's bedroom, and a secret sound-front passageway through which guests, or liquids banned during Prohibition, could arrive unseen.
Henry Walters filled the Bungalow with Tuscan furnishings he purchased from owners of the Italian palace, Palazzo Accoramboni, in 1902. Each guest room was fitted with a private bath, a luxurious arrangement in those days. On the terrace facing the sound, water from the mouths of eight bronze turtles fed into a sparkling clean pond filled with giant goldfish.  (6)

Near the lodge sat four pie-shaped pools, each stocked with varieties of trout that provided a dining choice for guests. Sometimes the guests themselves would "go fishing" using a crab net. Each pool was crafted of tabby, made on location by mixing concrete with shells from Wrightsville Sound. Employees Julius and George Evans, husband and son of famous artist Minnie Evans, drained and cleaned the pools twice a year, protecting the trout in huge enamel tubs until fresh water in the pools reached the correct temperature.
At the center sat the Temple of Love, a gazebo designed by the Joneses' son-in-law, John Russell Pope, a renowned architect who also created the Jefferson Memorial and NSDAR Constitution Hall in Washington, and Richmond's Broad Street Station, now the Virginia Science Museum. Pope's Temple of Love, like Edwin A. Alderman's revision of the Old Well in Chapel Hill, was derived from the Temple of Love at Versailles. A bronze reproduction of Andrea del Verrocchio's 1470 sculpture, Putto with Dolphin. adorned the temple.
Unlike its sister property, Airlie, Pembroke Park was not paved with sun bleached oyster shells. Henry Walters ordered Baltimore clam shells by the train car load to paid workmen to pave the lanes leading to and from the Bungalow. Mr. Walters artistic hand was seen throughout Pembroke Park, but that is no surprise. He is the same Mr. Walters who, along with his father, William Walters, assembled one of America's greatest art collections, now housed at the Walters Art Museum in Baltimore.  (5)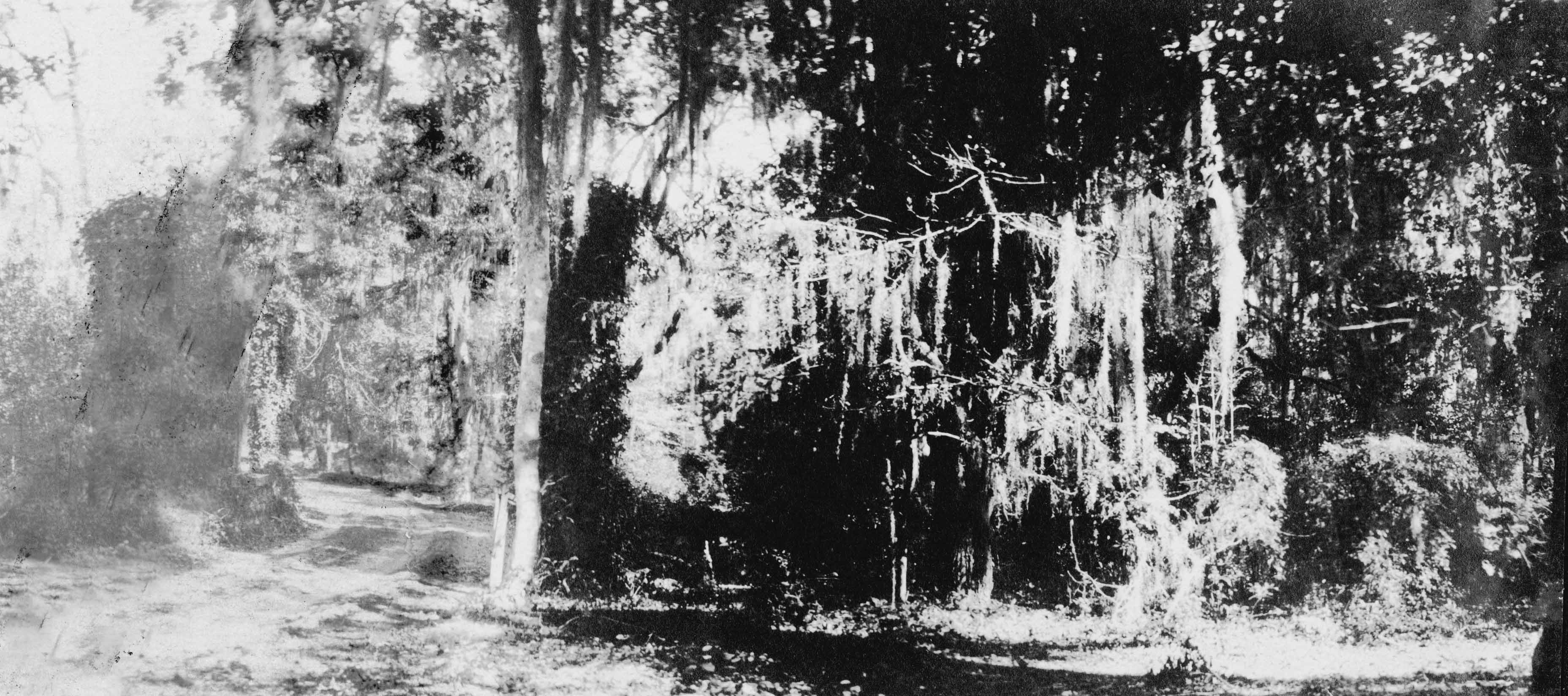 In this photo, taken a decade after the big parties stopped, Spanish moss adorns the MacCumber Station entrance to Pembroke Park. Scores of Pembroke Jones's employees lived in the area that is now a patio home neighborhood. The African American community that once lived there produced many talented individuals, but the most famous is artist Minnie Evans. Former resident George Evans still remembers the gregarious Mr. Jones. Born at Pembroke Park where Minnie and husband Julius Evans lived as caretakers, Evans was 4 years old when Jones died.
"He had his horses and the carriages and he was a jolly man," said Evans. "He just loved entertaining and going around shaking hands with people. During Christmas time he would have his horse and buggy all dressed up and he would go all around through the neighborhood singing and hullaballoing and all that kind of thing."
There is no evidence that Jones ever sought solitary, reflective moments. He saw Pembroke Park as a vehicle for socializing in grand style. "It was one big stag party," offered one Wilmingtonian. However, a clam shell's throw away, in the caretakers' cottage, Minnie Evans was having a very different experience. In 1935, Minnie Evans became an artist while living in the midst of Mr. Jones's forest, and some of the early work she created in shades of green, doubtless, was influenced by her surroundings. It was later that the Evans family moved to MacCumber Station.
In 1999, George Evans was asked what his father, Julius, thought about his mother's artwork. He responded by saying, "He was just like everybody else. He thought he had lost her. He thought she was going crazy. She went into some sort of trance before she went into painting. You see, she was given this talent three times before she would take it. The first two times, she laughed about it. She would tell us about it.
"So a third time this happened. I used to know what night it was. We were all there. Anyway, it was about 2 o'clock in the morning and God came to her and waked her up and lit up one side of her room and stood in the light and talked to her and said, 'Minnie, you're going to do these pictures or die.'  And she came out of that room screaming and hollering."
Today, Minnie Evans's primitive art hangs on museum walls around the world. Wilmingtonians who purchased her drawings for a dollar now pay considerably more just to insure them. In 1999, New Hanover County memorialized Minnie Evans with the naming of a new school that specializes in art instruction.
The lives of Sarah and Pembroke Jones were entwined with the African Americans who worked for them. When Mr. Jones died, in 1919, over 100 African American employees attended the funeral and gathered at the graveside service. They sang "Abide with me," and "Just as I am." All six pallbearers were young African American men.   (782)

St. Andrew's-on-the-Sound took part of its name from Sarah Jones Walters's name for her waterfront home, "Airlie-on-the-Sound." The 1924 church was designed by architect Leslie N. Boney and built by contractor U. A. Underwood. Mary Giles Davis donated the 2.5-acre tract, land passed down to her through her Wright ancestors. Construction costs totaled $20,000 for the Spanish mission style building located at the "Shell Road Crossing."
St. Andrew's-on-the-Sound was built by the same talented men who constructed Pembroke Jones's Italianate hunting lodge at Landfall, and crafted the garden sculptures within Airlie. Most of the workmen lived in the Wrightsville Sound area. The men themselves gave a beautiful stained glass window to the church, in memory of Pembroke Jones. They made the cross that sits atop the church, too, and hoisted it into place using pulleys and brute strength.
Mrs. Walters gave a substantial donation and contributed all proceeds from early Spring garden tours she offered at Airlie. The Rev. Dr. Frank Dean collected the remainder, mostly from Wrightsville Beach and Sound residents, and members of St. James and other Episcopal churches: the Rev. Alexander Miller, Anson Alligood, Thomas Morton, C. C. Chadbourn, Anson Alligood, William G. Dizor, W. A. Taylor, Mary Cowan Davis, Mrs. M. W. Divine, Mrs. Eloise Burkheimer, Annie Kidder, Jeanie Strange, Dr. Galloway, William Lord, A. T. St. Amand, Robert Tapp, and Mrs. Morrison Divine.
"It is recalled with feelings of awe how the gardens were opened year after year sometime ago, for the benefit of the little church at Wrightsville," stated the Morning Star, in 1934. "It is a much loved story of those who know it to believe that these flowers really built this church. The church is, too, a real little beauty spot and the circumstances of its existence make it more interesting."
The beauty of St. Andrew's-on-the-Sound was enhanced by Rudolph A. Topel (1856-1937). Both Airlie's gardener and a member of the church, Mr. Topel was able to channel extraneous materials from Airlie to St. Andrew's. "The grounds surrounding both church and parish house of St. Andrew's Episcopal Church at Bradley's Creek are being beautified by the transplanting of forest trees. Maples and other fine specimens of native trees are being removed to the church property."  (156)

In 1922, three years after Pembroke Jones died, his widow married in their good friend and frequent houseguest Henry Walters, age 73. They spent much of the year at Airlie, where the azalea blooms created mirror images in the lake Sarah Walters fashioned by damming Church Creek. Mr. Walters, though beloved by friends and servants, disliked being photographed and left virtually no personal paper trail. His desire for privacy increased in 1924 when he discovered his likeness in Horace Maclew, a character in Edith Wharton's 1924 novel, The Mother's Recompense.
The Wall Street Journal once said of Walters: "He has succeeded so completely in effacing his personality and his acts, that he is not even a mystery. He is unknown." Walters's intense desire for privacy, plus two mysterious small fires on the grounds of Airlie helped fuel the plan to move services from Mount Lebanon Chapel to a new church building.
Local observers noticed that Mr. Walters wore finger rings, changing them daily, and that a bronze mastiff also took up residence at Airlie. The life-size statue once stood at the gates of Walters's family home in Baltimore: St. Mary's. A former house employee at Airlie remembers Mr. Walters continuing to run the Atlantic Coast Line Railroad by telephone while his nephew, Lyman Delano, served as president of the company.
After the Walters began spending more time "at the intersection of Wrightsville Sound and Bradley's Creek," they saw Louis T. Moore with increased regularity. Mr. Moore's family and Pembroke's mother's relatives had been close friends for generations. Florence Hill Kidder Moore, Mr. Moore's wife, knew the family well, too. Her uncle, Frederic Kidder of Kendall Plantation, and Pembroke Jones were bosom buddies.
Sarah Walters, invited Mrs. Moore to tea frequently and called on Louis T. Moore for various things including greeting her "old friend Willie Vanderbilt when his yacht arrives at the Custom House." Mrs. Walters also requested Mr. Moore's help in publicizing the first Airlie-on-the-Sound garden tour for the benefit of St. Andrew's on-the-Sound. He responded by sending press releases to Raleigh, Rocky Mount, New Bern, Kinston, Greensboro and Charlotte. The response was so enormous that special "high speed electric car" schedules were arranged to handle the load. Twenty-five hundred people, including Col. Wade H. Harris, editor of the Charlotte Observer, toured the gardens in just one day. At fifty-cents a ticket, that paid a lot of construction bills for the new church.(7)

The city of New Bern responded to Mr. Moore's publicity, sending the Home Demonstration Club of Craven County. They toured the entire garden and gazed at Airlie's grand live oaks, the largest of which, the Airlie Oak, is 500 years old. Writer Estelle Smith recorded her impressions, as well as the candid comments of others.
"One woman had taken only about a dozen steps into the garden when she stopped and, in wonder, said, 'Well I've got my 50 cents worth right now.' "
"Another said, 'Sorting tobacco this summer won't be so hard if I can shut my eyes and see all this.' "
"Still another, noticing the native flora and fauna (that Mrs. Walters fostered), remarked, 'Did you notice that a lot of that was just wild stuff?'"
"Afterwards we went to the grounds of the Episcopal Church near the gardens. Here, lunch was served for those who did not carry their own."  (8)
Writer Blanche Crocker said of Airlie-by-the-Sea, " The spectacle presented in this lovely estate cannot be described by words. …there are only the sweet notes of the birds to break the silence."
Visitors during the 1920s were amazed at the beautiful black and white swans, the expanse of the lake, the pergola, brook, and the waterfalls. Few of the tourists understood a tombstone on the Airlie grounds that read simply: "Known in Eternity. J. H." The marble slab marked the grave of a mysterious highly-educated Frenchman who appeared in Wilmington in the 1840s. According to a local legend, "John Hill" was one of Napolean's marshals.
A playhouse near the waters of Wrightsville Sound was a favorite sight with its "miniature shrubs, trailing rosebushes, small gravel walks, and little curtained windows." The miniature house was charming amusement for the Joneses' granddaughters, Mary and Jane Pope. On December 28, 1929, Mr. and Mrs. Walters gave a dance of "distinctive charm and brilliance" at Airlie, in honor of their granddaughter, Miss Mary Pope. 150 guests attended the party and "were feted with elaborate cuisine and lavish Christmas gifts."  (860)

Louis T. Moore had at least two other memorable Airlie contacts. One day in 1936, author E. T. H. Schaffner notified Moore that he was writing a new book, Carolina Gardens. Louis T. Moore called Sadie Walters, requesting that she open the garden to him and submit for an interview. She complied, and the result was one of the most eloquent accounts of Airlie on record.
On another occasion, in 1958, when the Earl of Airlie, Lord of Cortachy Castle in Angus, Scotland, touched down in Wilmington, he called Louis T. Moore from Bluethenthal Airport. Mr. Moore was not home, but the Earl left a message with Mrs. Moore: "Where did the name Airlie Gardens originate?"
Mr. Moore wrote back, on March 13,"The name was selected in honor of the Scottish home of the Pembroke Jones ancestors who went from Scotland first to Fauquier County, Virginia."
This photograph of Airlie Road, issued in postcard form, showcases the "Kissing Tree" (center live oak.) The land on the northern side of Airlie curve has distinction beyond its startling view. The expansive parcel has belonged to one family for over two centuries. In 1800, Judge Joshua Grainger Wright purchased a tract of land that went from the drawbridge all the way south to encompass much of Airlie Gardens, know then as Mount Lebanon.  (879)

The Shell Road ran from a toll booth near the intersection of 17th Street and Wrightsville Avenue to just beyond the curve of present-day Airlie Road. Constructed of oyster shells laid over planed sand, the road was attractive and required little maintenance. Only horses had a problem with it: frequent stops were required to remove shells trapped in their hooves.
In the old days, a freed slave named Henry Hill, who once worked at Orton Plantation, provided transportation across the channel in his 12-passenger boat, for a dime. In 1888, the Wilmington Seacoast Railroad completed the first railway to the Hammocks (Harbor Island.) Engines known as the Jennie and Bessie pulled trains that resembled cattle cars.
Even as late as the 1920s, fencing was considered necessary. Most every family kept chickens and cows on their land for the sake of convenience. Though cars back then were not as powerful as those of today, Airlie curve still caught speeders by surprise and caused plenty one-car wrecks.  (878)
Copyright:  Susan Taylor Block (Text) and New Hanover County Public Library (Photos)